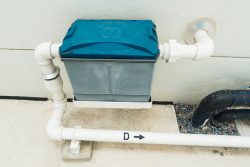 For restaurants and commercial facilities that rely on grease traps to maintain the integrity of their lines, grease trap pumping in Cleveland and Liberty County, TX is essential. This service needs to be performed routinely and by trained professionals who will also take the time to inspect your trap to make sure it's working properly.
Trap maintenance
All Pro Septic is your trusted partner for grease trap pumping and other general maintenance services. Unlike other pump providers who will simply pump and leave, we put in the time to check your trap and make observations about its function. If there's something wrong with it or it needs attention, we'll let you know right away so you can get it fixed before problems arise.
Cleaning
It's recommended to clean your grease trap once a month. For many businesses—like restaurants—this is imperative. Others can get away with cleaning it every few months or even just a couple times per year.
Whether time comes for you to think about grease trap cleaning in Cleveland or Liberty County, TX, we hope you'll choose All Pro Septic. Our thorough services and diligent dedication to every job means that when we're done, the tank will sparkle and function like new again.
Residential grease traps
If your home has a grease trap, we're happy to provide services for you as well! Though we primarily deal with larger commercial grease traps, our cleaning and repair capabilities extend to those residential customers with a need for it. We're happy to help!
Pumping, cleaning and repairing your grease trap is a messy job—let us take it off your plate! Our grease trap cleaning team has the experience and expertise to ensure your trap is functioning to its fullest and that any problems are solved or averted. Contact us today for residential, commercial of industrial trap cleaning, line cleaning, septic pumping, and more at 281-399-0155.