We have our own disposal facility because we like passing savings on to our customers!
Septic Tank Services in Cleveland, TX
Since 1999, All Pro Septic has been the premier provider of septic services to Cleveland, TX. We install, repair and maintain septic tanks for residential, commercial and industrial properties. We also provide line cleaning and sewage pump repair, as well as grease trap cleaning, lint traps and aerobic systems. Contact us for a hassle-free quote on septic tank services!
Purchase our septic enzymes and mention our coupon code for 5% off your service!
Complete Septic Services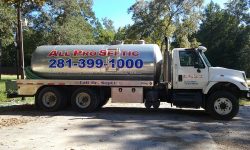 No one wants to deal with septic problems! Unfortunately, they can arise from time to time—often without warning. When you find yourself faced with a toilet that won't flush, a system that's backing up or a grease trap that needs emptying, call All Pro Septic. We're your all-in-one source for cleaning, repairs and general septic system maintenance in Cleveland or Liberty County, TX. We've been at it for decades, and we take pride in bringing an unparalleled level of experience and dedication to every job we tackle. Plus, there's no job that's too big for us to take on—we've handled every home septic problem imaginable and have put in extensive work for large companies like Walmart, KFC and McDonald's.
What sets us apart from other companies that offer repairs and other septic tank services in Cleveland, TX is the nature of our business. We're a troubleshooting company. Our team works hard to figure out the source of the problem, the first time around, so you don't have to worry about it coming up again! Other companies might be able to solve the problem—we make sure it's gone for good. We stand behind what we do and make sure to walk you through every step of service, explaining what the problem is, how we're approaching it and what's being done to resolve it. Whether it's simple line jetting to remove a blockage or a routine pumping in Cleveland, TX, you won't find better septic services anywhere else.
We pride ourselves on being a troubleshooting company, getting to the root of your problems to solve them, instead of just covering them up!
We're member of the Texas Commission on Environmental Quality (registration number 22879).
Our business is family-owned and locally-operated, proudly serving homes and businesses in our local communities.
As a third generation owned and operated company, we have extensive septic experience and industry expertise!
We're pleased to offer estimates on septic and grease trap services.
Set Your Septic System Straight
If your home is plagued by septic troubles or your business needs reliable septic tank services, waste no time in contacting All Pro Septic Today for a free estimate on service!
Proudly offering septic tank services to residents of the following areas:
Cleveland, TX
Splendora, TX
Shepherd, TX
New Caney, TX
Conroe, TX
Willis, TX
Coldspring, TX
New Waverly, TX
Goodrich, TX
Oakhurst, TX
Porter, TX
Romayor, TX
Ace, TX
Huffman, TX
Spring, TX
Harris County, TX
Montgomery County, TX
Liberty County, TX
Polk County, TX
Brazoria County, TX